Windows release and snapshot builds are made by cross compiling to mingw32 on a Linux host. Simulator support for banked memory and bit banding. The guide assumes that the reader is using a Linux based operating system. SmartRF not found for this chip. Type qualifiers in array parameters ISO C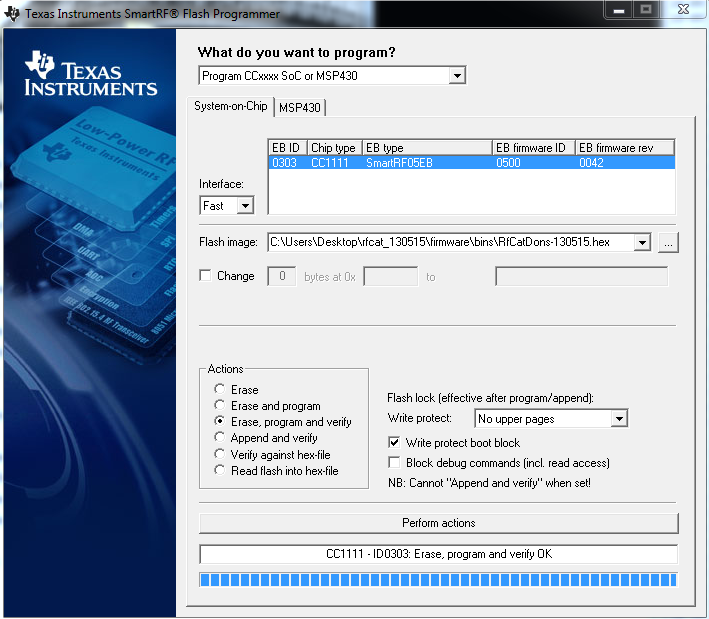 | | |
| --- | --- |
| Uploader: | Dailar |
| Date Added: | 24 March 2013 |
| File Size: | 69.27 Mb |
| Operating Systems: | Windows NT/2000/XP/2003/2003/7/8/10 MacOS 10/X |
| Downloads: | 73464 |
| Price: | Free* [*Free Regsitration Required] |
Once you have all the gear, connect the JTAG adapter to ljnux CC debug pins as per the rfcat documentation and as shown in the above image I only had male-female connectors, so I had to use a breadboard in between. Additional general utility function: However, I had no way of verifying whether it was correct or not except for the fact that 8 packets were sent.
Most of these garage door key fobs operate somewhere around MHz mine was set to Web Page – you are X here. This is essentially the same as setting the baud rate to Bd. Short easy online fill-in the blanks. Before reporting a bug, please check your SDCC version and build date using the -v option, and be sure linuux include the full version string in your bug report.
The gear I used to accomplish this project is listed below. Hacking fixed key remotes You can ring my bell! By exporting the sniffed signal and analyzing it, the modulation could be determined.
Replaying the signal For replaying the signal, we use the rfcat library which is available here.
The latest development source code can be linuux using Subversion. Up until now firmware for the device had to be pushed in with a GoodFET or TI proprietary programmer which was quite slow. News Sep 27th, Next up, [Gordon] goes into detail about replaying amplitude shift keying messages using the RFCat. After I had used this lknux to decode the first packet, I repeated the process for the second packet.
In addition to playing audio, you can also use audacity to analyze wave patterns e.
Package: cc1111 (2.9.0-7 and others)
SDCC compiler suite include:. PCM'ify the packets for i in range 0,repeat: Windows release and snapshot builds are made by cc11111 compiling to mingw32 on a Linux host.
Decoding the signal Decoding the signal can be done in several ways. The library is written in Python, and it is quite simple to get started using it. Finally, the following code is my end result which allowed me to open my garage door from a CCEMK using rfcat and rfcat firmware. The following will fetch the latest sources:.
Numerous other new features and bug fixes are included as well. SDCC is constantly being updated with all the users' and developers' input. The next step now is to further analyse these blocks and ultimately decode it. Intermingling of declarations and statements ISO C Snippets must compile and must include any required header files, etc.
SDCC and the included linnux packages come with fair amounts of documentation and examples. We will fc1111 this application to identify the signal limux the key fob and make a recording of it.
rfcat – notes and ramblings
For additional details on the capabilities of the CC chip, check out this information from the rfcat developers. Regression testing for diagnostics.
Though this will make your message lengthy, it will greatly improve your chance that SDCC users and developers will be able to help you. It should compile "out of the box".